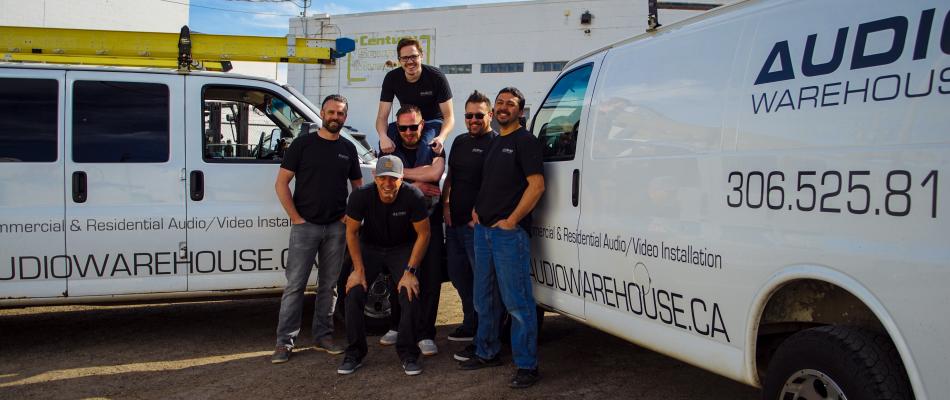 Audio Warehouse is Saskatchewan's ORIGINAL Custom Home, Car Audio, and A/V retailer.

Our team works and plays in the same community as you for the last 50 years and we are still going strong.

Our business is based on Saskatchewan values run by two home grown entertainment enthusiasts! Don Rae and Brian Melby work, live, and support Saskatchewan through this next level, local, A/V company and look forward to serving you next.

It's no accident that we have succeeded in this market for as long as we have. Audio Warehouse operates on the simple, but important philosophy that the Customer (that's you!) comes first. We take this so seriously that our first customers are still customers 50 years later.

The Audio Warehouse team is made up of passionate office staff, knowledgable and friendly product specialists, an incomparable service and repair department and the crème de la crème of installers and programmers. We couldn't be more proud to have assembled this team that so aptly represents Saskatchewan's finest.

Whether you're looking to upgrade your cellphone, learn what all this technical TV jargon means, find out what it takes to get a Smart Home, or escape frigid Regina winters with a car starter, our staff is ready, willing, and happy to help you out!



SHOP LOCAL

Shopping local doesn't have to end with your neighbourhood coffee shop or your independent grocer. We all know that shopping local means that your hard earned money comes back into your local economy instead of being filtered out throughout the country, but that's not the only reason you should work with us.


We have competitive pricing! We won't be undercut by the Big Box stores! We want your business and we're willing to work hard for it. Pricing is no exception and we strive to ensure that we match or beat our competitor's pricing. This isn't always easy for a local business but we want you to feel great about the hard earned money you spend with us.

Our staff is our family! When you talk to someone from Audio Warehouse, you are speaking with someone who is invested in our company and our customer's satisfaction. You won't be sluffed off so we can get to our coffee break and you won't be sold something you don't need. Our team's goal is to see that you leave us knowing immediately that we do business a little bit differently, and a whole lot right. Whether you're in store, having a consultation with our Custom Home team at your home, or calling in, you'll experience the Audio Warehouse difference and we think you'll like it.

We've survived and thrived! You've got options! There's always been options and there's even been some good ones. None have withstood 50 + years in business the way we have. We've maintained cutting edge technology, outstanding customer satisfaction, and we've taken this ever changing world of electronics and shown it who's boss. It's not easy to stay ahead in a market like this and we can tell you exactly why we're still the leading name in Audio Video in Saskatchewan. You!

There are a lot of ways to gauge success in business and we score pretty well in all of them but for us what matters most are the customers. We know we're doing it right when we see so many familiar faces month after month and year after year. Saskatchewan, We Thank You for your loyalty, your many referrals, and your unquenchable passion for mind-blowing entertainment options!

We specialize in categories such as Home Theater, Home Automation, Commercial Designs and Installations. From a basic TV setup to an advanced custom home project, Audio Warehouse has you covered! We're ready to turn your A/V dreams into reality.



Contact Us or Book for FREE site visit >