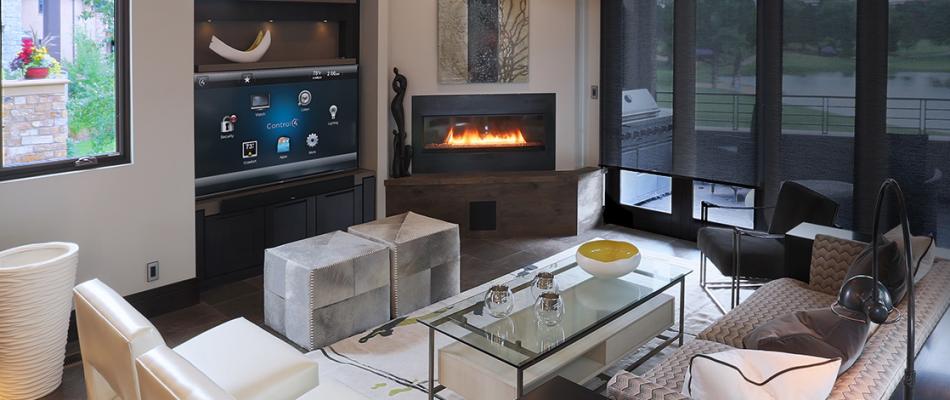 What is Custom Home?
Custom Home is anything and everything A/V, custom designed to fit your needs, your budget, and calibrated for the best experience possible in your home.
It could be family room entertainment, high resolution multi-room audio, or even smart home automation.
Our Customs Team is the best in the business; famous for providing systems of all sizes and budgets and installing quickly, cleanly, and awesomely.
We work with a system called Control 4 to Automate your life. If Automation is was you desire, we will install and program this technology with any of your existing entertainment equipment or bring you shiny new pieces to incorporate.
You might be interested in Automation to update the look of your home for resale, improve ease of use and functionality, provide added security, or even access your home and its controls from anywhere in the world.
Control 4 gives us the ability to put you in the driver's seat of your home from the power of a tablet.
Control your home theatre/entertainment, lighting, temperature, security, the audio throughout your entire home, and much more.
Bottom line, this is crazy cool stuff and you need it in your life.
Consultation is free, so call today to find out what kind of unbelievable entertainment options we have for you!
A House from the Future: Today
You want the things around you to be smart. You family, your kids, your boss/employees/coworkers, even your dog. While some of these things might be out of your control (like the not so smart guy you work with) there's definitely one smart function you can control. Your House can reach the next level of Smart, and Audio Warehouse can help you do it.
We have the automation solutions to make the electronic components and systems you already use work together, or we can provide what you need to meet your vision. We will create an elevating and thrilling Home A/V experience that puts the smarty pants in your kids class to shame.
Home Automation can include anything and everything! From window coverings, lighting, multi room sound, media, video, climate, security, and even smartphones and tablets. And best of all it's all neatly tucked away, running smoothly behind the scenes and out of your way.
Our EXPERTS put you in FULL CONTROL!
Where the Lifestyle you've Earned Meets the Performance you Crave
Through over 2000 Custom Home projects we've developed a wide variety of sound, home theatre, smart home automation packages to fit a range of needs and desires. Each option represents the best value and exhilaration possible. No matter your budget or the size of your project, our goal is to integrate seamlessly into your home and leave with all your technologies living in perfect harmony.
Multi room audio
Media rooms
Micro home theatres
Full Home Theatre A/V Systems
Outdoor yard/patio/hot tub media centres
Partial or Full Smart Home Automation
Home Theatre:
A customized, dedication and professionally engineered, personal theatre is a film buff's dream come true.
Imagine optimum placement, plush seating, a giant screen with an unobstructed view, in a room with easily controlled sound, lighting, and your loved ones nearby (or locked out if it's one of those days).
Home Theater has become the "must have" of the modern family home. Here, a large screen display, typically +50-inch, is the centerpiece. It is connected to a high performance audio system with multi-channel surround sound such as Dolby ATMOS for advanced systems. All this technology while impressive is also hidden, neatly tucked away and out of sight for a clutter free, stress free, in home theatre experience.
Media Rooms:
Just because you don't have the right space for a theatre room or maybe the budget, doesn't mean you can't have epic sound and video in your home.
Media Rooms are modern updates of what many of us grew up called the "rec-room." Typically, this room will have a television or projection screen with various media sources, such as cable, satellite, media players; connected to wi-fi, gaming systems, an audio system, stereo or surround sound.
Some of the most epic entertainment experiences come from multi-purpose rooms in your home. Living rooms, Rec Rooms, Master Bedrooms, even patios, can provide a media experience that will blow you (and your guests!) away.
Any room your love or spend a lot of time in can be re-mastered to the media room you always wanted. Mirrored TV's, Hidden Micro Theatre, TV's, Projection and speakers that appear or disappear by the touch of a button can be a reality in your home.
Whichever size or setup you desire, visit Audio Warehouse for EXPERT ADVICE, equipment and design services.